Church camp was KL this year from Monday to Thursday. So.. how can we waste the weekends?
Decision made.
Booked the grassland bus and off we went on Saturday - 730am bus!
(Okay. For KL, I'm a real fan for grassland because of comfort and that it stops opposite Time Square - Easy go Easy Back)
Being a bunch of energetic girls, we placed our bags down and went searching for food.
First up, the Hainanese Kopitiam
35 Jalan Dang Wangi
(If you stay at Times square like us, sit the metro from IMBI till Bukit Nanas, then just walk there.Its very near!)
See the station below
And go in this direction. All the way straight. Around 10 minutes walk?
Don't bother asking people if they know Yut Kee.
NO ONE KNOWS. Not even the address if you show them.
Its along the row of shophouses. Near the 7-11
When we went there it was packed. WITH SINGAPOREANS!
Goodness. haha. Even the owner sounds Singaporean. Is he?
So the wait began.
1. Go to the counter, tell him how many people
2. Wait at the side, he will call your name
Roti Babi was sold out.
So we looked around and ordered what the rest was.
Pork Chop -
Its crispy so with the sauce mix, its good. Need to share though. Its quite filling and 'jerlat' after a while it seems.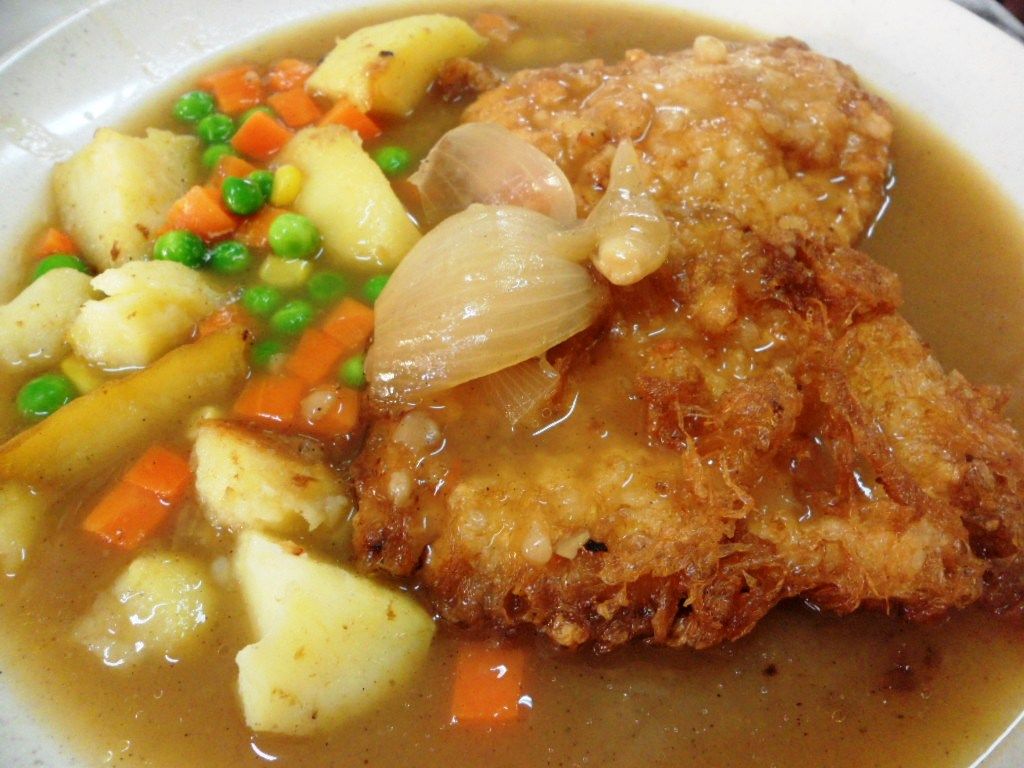 And the Hailam Mee
- I like the sauce. Not too oily and sweet.
I still want to go back and try the rest though. Singapore thing.
Next morning Monday, we wanted to go to Imbi. But was told it was shut. But along the way we found this coffee shop. You will see it on your way.
Jalan Melati
if I'm not wrong.
(Its better than Imbi I find. Well personal preference.)
Very nice!
I love the black kueh one.
Oh. This was their famous store item and I had high hopes. The store that sold this near my church was delicious. But this, sad to say, too hard. Yam and sweet potato a little too hard and dry.
Pan Mee -
Very tasteful with I supposed lots of Aginomoto? But well worth.
Cheong fun mix. Normal.
Yong Tau Foo - Light and a little oily. But nice.
And in the evening, we made our way to Sek Yuan Restoran- Cantonese food!
315 Jalan Pudu
Walking distance from Bukit Bintang (just walk all the way straight along that small highway and look across the road)
The pipa Duck. Crunchy, Crispy and meat seasoned well.
Meat Balls. Fried. But meat is very juicy so does not feel very oily.
Char Siew - The best. We ordered additional plates.
Tou fu - So So~
And of course, the finale IMBI market.
Which I had very very high expectations because of the numerous reviews on it.
1. Get off at the Bukit Bintang station
2. Exit towards Lot 10 and walk towards Parkroyal.
3. Turn left into Jalan Imbi after Parkroyal n keep walking until you see Win Heng coffee shop on your right.
4. Cross the street into Jalan Barat. Keep walking until you see Jalan Melati on your left.
Turn left into Jalan Melati.
Once you see this. You are on the right path. Cross the road into an Ulu small road.
And you'll see this sign.
PoPiah
Yin Yang
Curry Noodle
Pan Mee
Chicken feet noodles
And egg tarts that we had to order and wait. Hot from the oven.
And Cheong fun!